I went to the
Wrightstown Farmer's Market
a couple of weeks ago.
Exciting things were happening.
I watched the lady from Kaleidoscope Farm being interviewed for
Jim Coleman's Healthy Flavors
. I also bought some heavenly
Honeycrisp apples
there.
I got some bread from
Great Harvest Bread
. I bought the last loaf of the kind I wanted, so he gave me the other half of the sample loaf. Thanks!
Community Baptist Church has a garden. What a great idea!
I was introduced to
purple hull peas
.
And butter beans.
I stayed a long time at
Lillies and Lavender
. The owner's son and his friend were nice enough to let me take lots of pictures.
I love cosmos. They are so bright and cheery.
I also bought a bunch of basil, so I could make my favorite sandwich for lunch. Tomato, basil and mozzarella. Terrific!
I gave half the basil bunch to my neighbor and put the rest in water. It has sprouted roots, so now I am going to put my basil in dirt to see if it will grow.
Hope you enjoyed my trip to the Farmer's Market.
In looking for links for this post, I found a local blogger who had already visited and written about the Farmer's Market. Maybe
My Garden Travels
and I will cross paths someday.
Thanks for visiting my photo story, and be sure to go read other stories at: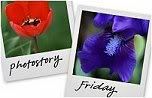 Hosted by Cecily and MamaGeek