My mid-life crisis was a time of awakening. A rebirth.
It was painful and lonely. It was scary. It was real. It was dark.
Then it was of all colors. Sweetness and salt. Shouting and song.
An eternity. A moment.
The fruit of those hard
--dare I say--
years
was an absolute conviction that I am completely accepted.
By God, by Steve, by those I love.
By Me.
Cracks and holes and peeling paint.
Glimpses of sky.
Reflections.
All of me. All accepted. All good.
Unashamed.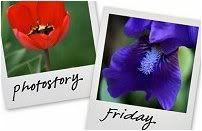 Hosted by Cecily and

MamaGeek