Caspian is our Portuguese Water Dog. He is s
mart, funny and stubborn. He is always trying to bark his way to the top. We will never sleep unaware if our house catches on fire because he hates the smell of smoke and lets me know whenever I burn dinner. He's had lots of practice.
He's not cuddly, especially to El. He hates little white dogs, or maybe he just really loves them. His favorite foods are apples, cheese, peanut butter, unattended morsels, garbage and poop. He can go for a two mile run with Steve and still has enough energy to raise a huge racket and slobber up the front window when that black cat parades by. He's a really great dog. The best, as you can see. I know you're really jealous that he's not yours. Want him?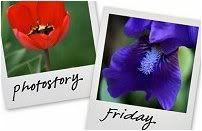 Hosted by Cecily and MamaGeek